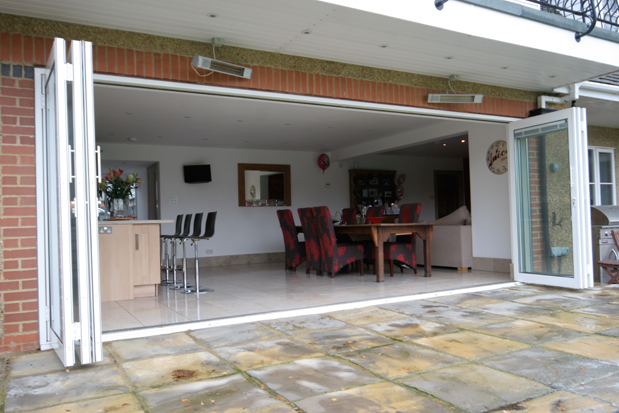 The Search for the Best Patio Door
Patio doors come in many types and finding the perfect one can be a challenge. The type of door matters depending on the house. Some homeowners just love French doors while bi-fold types are ideal for others. Of course, there is style, frame, and glass type to consider.
The specifications are important to look at. If hinges are needed, then they need to support the door's weight. For sliding doors, you'll need room for some supports above. The floor can be free of any rails or supports, depending on the installation. Top hung doors offer several benefits, including ease of use and configurable thresholds.
Changing a threshold is good for many reasons. First, it can accommodate a specific floor type. This can also help you save on costs, but these adjustments can also make operation easier for people such as the elderly, children, or physically challenged.
Always consider security. The lock should always be on the inside, rather than the exterior where anyone can access it. Most people first consider the frame and glass, but even if these are the most durable on the market, they won't hold intruders back if they can get inside with the flip of a lock. Key-locks can be added for door pairs, especially if there are multiple panels. Bi-folding doors can be fit with inside locks.
A Variety of Choices
French doors often enable inside and outside access, another aspect to consider. Able to stretch up to two metres, these are beat out by sliding doors which cover up to three metres. Four sashes make each frame strong and resilient.
An even more versatile choice is the retractable bi-folding door. It can form 12 metre wide glass walls for more flexible applications.
Customers often choose slide-and-pivot doors as well. Featuring no frames or hinges, they are light and convenient and stretch as wide as the over-beam. Upper and lower guides are equal from side to side. The design allows for a width of up to eight meters.
More about French Door Installations
Various sizes are available for French doors, while sliding and bi-folding doors come in smaller widths. All the while, these meet strict UK quality and delivery standards. Consumers benefit because they can compare quality of service and pricing. They can also gauge the final results better. The law now protects customers should the manufacturer take longer than specified.
These rules apply even for installations in commercial establishments such as restaurants, reception areas, swimming pools, and sports facilities. Wherever single- or double-glazed frameless doors are installed, the law must be abided by. This includes any shop, terrace, or conference area as well.
Any manufacturer must apply the CE mark and guarantee the quality of its doors.